Summary of The Club At Barefoot Beach
Posted: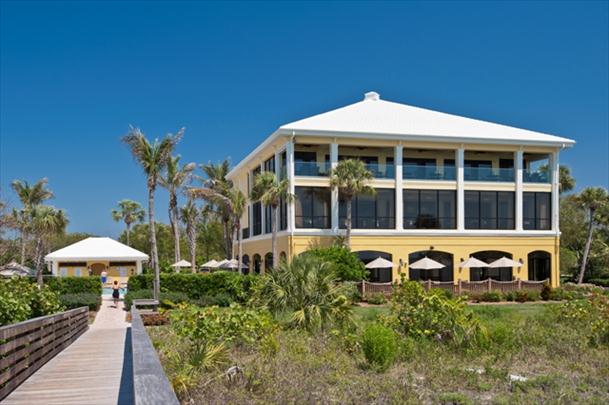 Summary of The Club At Barefoot Beach
If you are in the market for a beach home in Southwest Florida with an exclusive membership, then you may want to check out The Club At Barefoot Beach in Bonita Springs.
Location
This prominent Beach Club located on Barefoot Beach is located at 105 Shell Drive Bonita Springs, FL 34134.  It is inside the gates of this incredible beach community and located directly on the sand of the Gulf of Mexico.
Barefoot Beach is in Southwest Florida in Bonita Springs which lies just north of Naples and south of Estero / Fort Myers Beach.
Dining
At the Club, you have two dining options.  The Turtle's Nest Casual Dining (The name fits as Bonita Beach is known for Loggerhead Turtles nesting along the Bonita Shores and The Shell Dining Room.
The Turtle's Nest is located on the first floor and is open air.  Daily lunch is served from 11-3:30 and dinner is served in season only Tues-Sun from 5:30 – 8:30.
The Shell Dining is your fine dining atmosphere and five-course menu by reservation only.
Beach & Pool
You will have access to both the private pool and beach with full service for your favorite beverages and food service delivered right to your chair or towel.  The hours for guest service are usually from 10:00-5:30.
Tennis
Do you enjoy a good game of tennis?  The Barefoot Beach Club offers 2 Clay finish Tennis Courts for your use.  They also have the convenience of showers with all the necessities to clean up after a long match.
Social Activities
There are many social activities available to get to know your neighbors of Barefoot Beach.  The activities include but not limited to live music, happy hour, beach parties, a book club, yoga, poolside cookouts, kids carnival day, card games and much more.
Special Events
Do you need to book a special event for business, a wedding, birthday bash or just a party for absolutely no reason?  Let management know what your thoughts and expectations are and they will come through for you.
Membership
The membership at Barefoot Beach Club does come at a price.  However, what does it really matter when you all of your dining, comfort and social needs are well taken care of.
Within the club, there are member benefits including Summer Reciprocal Programs with other clubs.  Meaning you will have access to explore other clubs in the offseason.
You will also have a vote comparable to being on a board of directors for a Home Owners Association.  Membership caps at 400 members (and their guests).
Do you enjoy boating?  You will also have access to the Barefoot Beach Club's private boat docks.
Fee Structure
There is an initial equity fee of $30,000 that can increase (potentially decrease) in value.  A $20,000 initiation fee.  Annual dues in the amount of $5,100.  *Fees are subject to change.
Real Estate at Barefoot Beach
Do you truly want to live the luxurious lifestyle by the beach at Barefoot Beach?  Then check out all the properties for sale HERE.  Also, each subdivision is laid out to the right for easy searching.
If you are interested in talking with the Beach Brokers in finding your next home or second home, we can be reached direct at 239-425-5671.
We live on Bonita Beach and have an office across the street from Barefoot Beach.  We can meet at any time convenient to your schedule.
We hope you have found value in this information pertaining to the club.  Also, feel free to let us know in advance and we can arrange a tour with senior management at The Barefoot Beach Club.