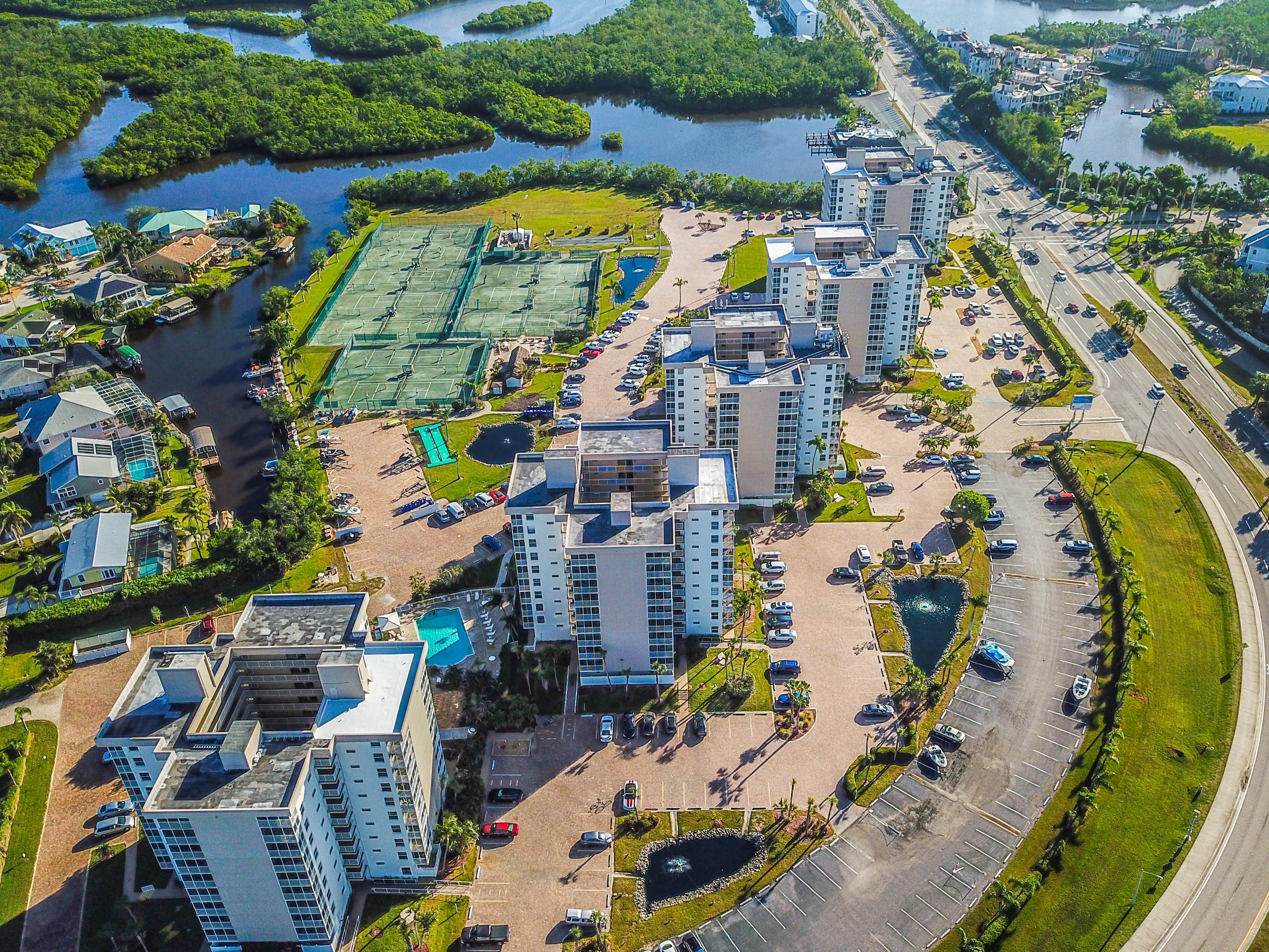 View All Beach And Tennis Club Listings
Amenities:

Beach Front Living

Pool / Shuffleboard

Boat Slips / Tennis

Pickleball / Dining
Beach and Tennis Club in Bonita Springs, FL: Condos For Sale
Bonita Beach And Tennis Club is the most unique and affordable beachfront community in Southwest Florida!  Below I will go into detail on why we personally believe this due to our own personal expertise and experiences selling real estate in Bonita Springs, FL.
Beach & Tennis Club Building Set Up
Bonita Beach and Tennis club consist of 5 buildings with 360 studio condos all approximately 520 sq ft.  The middle building (5700) has an enclosed atrium with the Homeowners Association Office / CAM.  There is enclosed bike storage as well as locked storage available at an additional cost in a few buildings.
Several buildings have bathrooms in their atriums which is great for overflow guests as all units have 1 bathroom.  There is a tiki hut off the Cafe for an area to gather at or even host your own party
Below you will find more details about the Beach and Tennis Club in Bonita Springs.  This is truly a great place to reside by the Gulf, Vacation to or even has as a cash flow investment property.
Beach & Tennis Club Amenities
Bonita Beach and Tennis Club host plenty of amenities for a variety of desires, besides 6+ miles of beautiful beaches right across the street.
Do you love boating?
There are plenty of both wet and dry slips available for lease through the Beach and Tennis Club HOA.  Unfortunately the wet slips maybe on a small waiting list.  Also, at this point, there are no lifts on premises so you will want to ensure you have an outboard engine while sitting in the slip.
The dry slips are more readily available.  You will have to trailer your boat or wave runner but there are multiple boat ramps all within a few miles.
Into Tennis?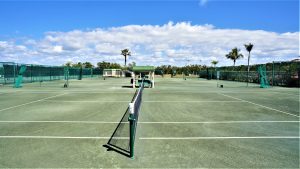 The Bonita Beach And Tennis Club hence its name has tennis courts.  And plenty of them!  There are 15 Har-Tru tennis courts to enjoy year around.  There is also an on-site tennis pro to conduct tournaments and private lessons.
Tennis Too Tough On Your Joints?
Well…  Pickleball has taken Florida by storm!  I remember playing this incredible game back in the late 90's in New Jersey.  No one really heard of it in Florida.  Not the case any longer!  This popular sport became so popular that the residents of the Bonita Beach And Tennis Club demanded brand new courts!
Shuffle Board / Bocce
These two sports are available onsite as well.  The shuffleboard courts just got completed in 2018 and ready for sliding!  Bocce, what a great old Italian game!  If you haven't played it, you are missing out.  But here is your chance to get into tournaments onsite or play at your leisure!
Beach & Tennis Club Pools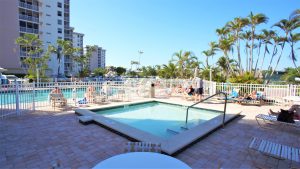 There are two large pools onsite and one kiddie pool.  They are saltwater infused so no dealing with the harsh chlorine chemicals.  We live on the beach after all.  The pool between building 1 and 2 has been completed rebuilt in 2017.
Commercial Convenience
Well…  Shameless plug, but I, Steve Daria, own in the Bonita Beach and Tennis Club and also have an office onsite to service all of our clients.  I have personally owned several units in the complex and have been completely happy both living here in the past as well as leasing them to vacationers.  Office – Maxim Realtors:  5900 Bonita Beach Rd #1103 Bonita Springs Fl 34134
Also, onsite there is a health food cafe right by our office that you can get breakfast, lunch and dinner with a glass of wine.
Beach & Tennis Club Location
The location of Bonita Beach and Tennis Club is unmatched with limited traffic to US 41 and I75 where you will find all your necessary shopping and dining needs.  A few miles north on US 41 you run into Coconut Point Mall and a few miles south you have Mercato.  Don't forget about an easy 25-35 minute drive to SW Florida International Airport to get you back up to midwest or fly out to the Caribbean islands.
Need dinner where you can walk to?  Take an easy stroll across Hickory Blvd to the Gulf of Mexico and you will run into world Famous Docs Beach House.  On the back side, you will find another waterfront restaurant named Coconut Jacks where you can also pull up by boat, canoe or paddleboard for lunch or dinner.
Key West.  Have you heard of it?  Well, head north on Hickory Blvd and cruise through Fort Myers Beach.  Across the main bridge to Fort Myers, you can access the Key West Express.  That's right!   No need to drive 5-6 hours.  Jump on this fully air-conditioned ferry and enjoy a couple drinks at the bar.
Investment Property
The Bonita Beach and Tennis Club are one of the very few properties that allow a 3 (Three) day minimum rental policy which is why this makes such a great investment to lease out to guests and use when you would like.  They are great for overflow guests or simply just to cash flow.
On average you can expect gross income of $28,000 a year depending on the condition and views.  We have close relations with a vacation rental company who can handle all of your short-term leasing needs at competitive rates.  They actually handle my personal investment properties as well.
Beach & Tennis Club HOA
You know…  Buying into any association has its risks.  Risk of mismanagement and mismanagement of funds.  This HOA is well run with a solid reserve account in place.  We can provide you the budget for review.
When I am looking at property to invest in, this is one of the main areas that I will scrutinize.  Why?  Well, who wants to purchase a property only to see some sort of huge special assessment a year or two down the road?  So, regardless if you are interested in the Bonita Beach and Tennis Club for sale or somewhere else in SW Florida, be sure you hire a good Realtor.
Expenses
Speaking of financials…  This community is relatively cheap for your hold cost.  Below is a simple breakdown on what you can expect to dish out assuming that you pay cash.
HOA Fees – $1,020 p/qt
Taxes – $2,000 p/yr
Contents Insurance – $500 p/yr (Not required)
Electric – $40 p/mo
Internet – $60 p/mo
*Cable, Water, Sewer, Trash are included in HOA Fee.
Total Annual Expense:  $7,780 
Interested In Buying in the Beach & Tennis Club?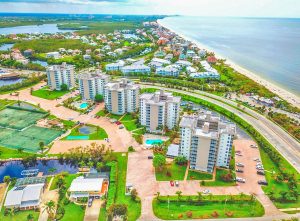 Condo's at Bonita Beach and Tennis Club are the most economical units you will find on the Gulf of Mexico for sale.  Also financing with fully amortized 30-year loans are now available!!  Below you will find real-time up to date active inventory in our community.
Steve Daria – Broker at Maxim owns in the complex and has a wealth of knowledge of the community.  He can be reached direct at 239-425-5671.  Remember, using a Realtor to assist you in buying will not cost you any Realtor commissions or fees.
If anything, we attribute our success to helping our clients get really good deals.  Thank you for taking the time to review this information.  As always, we are here to help answer any questions.  Not the right time to talk?  Simply input your contact information below with a good time to call.
Beach & Tennis Club Condos for Sale